A VIBRANT, THRIVING TOWN WHICH IS STILL ESSENTIALLY SPANISH
San Pedro de Alcántara is a thriving town located just 10 minutes West of Marbella yet has retained its small town charm despite a considerable rise in popularity and facilities
10 minutes from Marbella, 5 from Puerto Banús, 10 minutes from Estepona and 45 minutes from Malaga or Gibraltar airport, it occupies a fantastic location in the middle everything yet quiet and relaxed.
THE TWO SIDES OF SAN PEDRO
The central point of the town is the recently finished Boulevard de San Pedro.  A long and wide walkway, with footbridges, cycle paths, an amphitheater, fountains, plenty of play areas, 3 good bar/restaurants and with regular events and street markets, the boulevard has rapidly become the place to go for San Pedro residents and tourists.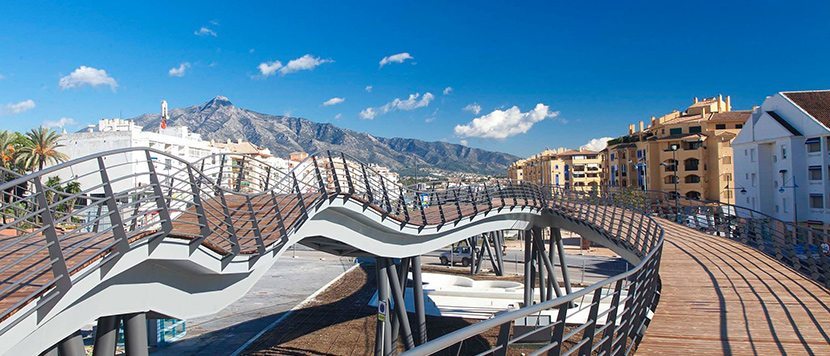 From the boulevard a pedestrianized street stretches north to the church square with its pretty local church. The street is lined with dozens of cafes for watching the world go by as well as popular and fashionable bars such as La Sala and other more Spanish tapas bars. With plenty of shops, banks, supermarkets as well as gyms and health and beauty facilities, everything in San Pedro is within a 5 or 10 minute walk down its winding streets.
South from the boulevard, along a wide tree lined avenue is the beach, with a wide and long promenade with an equally spacious beach. With plenty of beachside bars and restaurants - "chiringuitos" – it's a popular place on a summer day and at the weekends in the warm and sunny winter days.
San Pedro also has the distinction of hosting the last summer fair (feria) in Andalucia, celebrating its patron Saint during the second week in October.
Within a short drive is the small white village of Benahavís and the beauty of the Sierra de Las Nieves and Serrania de Ronda natural parks, with plenty of hiking and mountain biking trails as well as pretty white villages and fantastic scenery.
A refreshingly un-spoilt town, with recent developments only adding to the excitement and appeal of the town, San Pedro de Alcántara is one of the most demanded locations on the Costa del Sol for property sales, long term rentals as well as being hugely popular due its convenient location as summer holiday destination.
TAPAS, CHIRINGUITOS, RESTAURANTS AND NIGHTLIFE
For eating out there are lots of typical fish restaurants that are popular with the locals as well as restaurants serving international cuisine and of course tapas bars.
San Pedro has dozens of street cafés, or for when the sun has gone done, it's fair share of bars - from Spanish bars with sunflower seeds on the floor to more international bars open to the early hours of the morning.
EATING OUT SAN PEDRO
• Alabardero Club Playa (Spanish)
• Marabierta (Spanish)
• Ambrosía Bistrobar (Spanish)
• The Hogan Stand (Irish)
• Da Bruno (Italian)
• Bodega Waikiki (Spanish)
• Cranberries (Coctec bar)
• Delia Lounge (Arab)
• Ginza (Asiatic)
• Gym Junkie Cafe (Healthy)

WHAT TO DO AROUND SAN PEDRO
15 minutes from Marbella, 15 minutes from Estepona and just under an hour from Malaga city, San Pedro occupies a great spot on the Costa del Sol
Discover San Pedro...
• Benahavis – Just a 10 minute drive inland from San Pedro is the pretty village of Benahavís, tumbling down the valley and framed by a vertical gorge and mountain backdrop. Known as a culinary hotspot, with a great choice of top class restaurants, it makes for a great a place to spend an evening as well as great day trip out, offering an atmosphere of tranquility and of being surrounded by nature, just 10 minutes from the Costa del Sol. Benahavis is also a popular base for a host of adventure activities. From swimming in the river and diving into its pools from the cliffs, to canyoning, rock climbing and mountain biking.
• "Casco Antiguo" Marbella's Historic Old Town – Marbella's historic centre, is just a 15 minute drive away. Full of pretty, narrow cobbled streets, flower drenched houses with ornate balconies and an atmosphere and pace of life that makes you forget you are in the centre of Marbella. Plaza de Naranjos, or Orange Square is a tree lined square lined with cafes and restaurants whilst the narrow streets are home to artisan and craft shops, gourmet food shops, clothes shops as well as the obligatory tourist shops!
• Estepona – Just a 15 minute drive West of San Pedro is the coastal town of Estepona. Nestled between the backdrop of the Sierra Bermeja and its renowned beaches, with over 20km of coastline, including one of Spain's first naturist resorts! Estepona is relaxing town and offers a much quieter pace than its Easterly neighbors. Rapidly becoming a tourist destination in its own right, thanks to recent projects such as Large scale murals decorating the sides of houses as well as a new botanical garden – the "Orchid House". The beaches are long, sandy and wide and some are enclosed in shallow coves, perfect for small children. Estepona is also an old fishing village, the evidence of which can be enjoyed at many of its beach restaurants!
• Ronda – Although Famous for its impressive bridge spanning the gorge separating the two halves of the town, Ronda has much more to offer. From the home of bullfighting to the writings of Ernest Hemingway, Ronda has long captured the imagination and is a true Andalcuian town. As well as the stunning view of the bridge and sweeping views of the Serrania de Ronda beyond from the ornate nearby Alameda Del Tajo, other sights include the remains of an Arabic Bath, the Mondragon Palace as well as the Plaza Duquesa de Parcent, filled with monuments including the Santa Maria del Mayor church.
San Pedro is also home to a hugely popular wakeboarding lake, complete with pool and bar cafe. There is also a golf driving range as well as several popular gyms.