NUEVA ANDALUCIA
One of Marbella's most desirable and popular residential areas, within easy walking distance of the famous Puerto Banús and surrounded by the area's top golf courses.
It offers the perfect combination for those wishing to enjoy the beaches, shopping and nightlife yet is somewhere tranquil and pretty, with plenty of green spaces, lakes and a fabulous mountain backdrop framed by the peak of La Concha.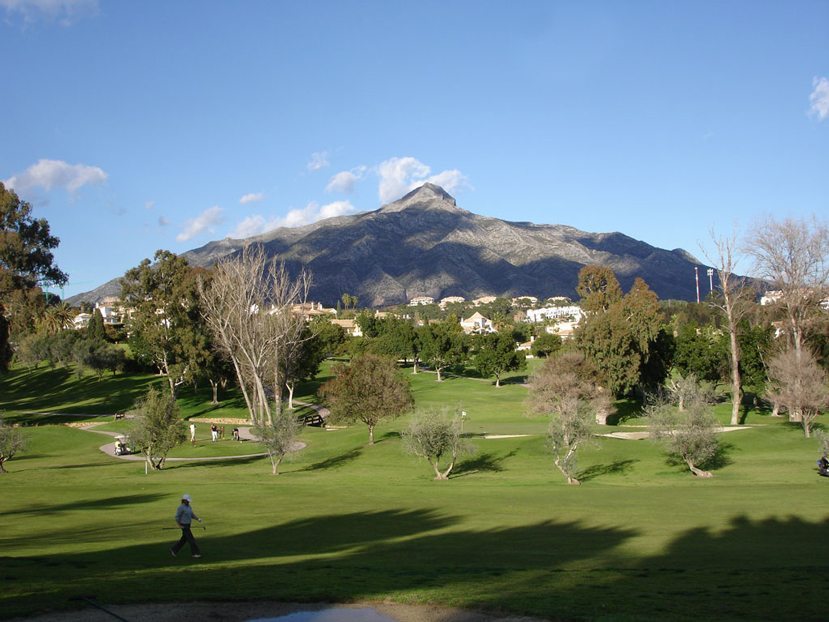 Although primarily a residential area, Nueva Andalucía also has plenty of amenities that give it the feeling of a town without the noise and hassle and makes it the perfect place to stay whether for a holiday rental or as a resident.
An exclusive area, attracting the rich and famous wanting the lively buzz of the nightlife and the super cool beach bars and clubs as well as families, couples and holidaymakers who come to enjoy its beautiful surroundings and its proximity to the best that Marbella and the Costa del Sol have to offer.
NUEVA ANDALUCIA AREAS
Due to the spread out nature of Nueva Andalucia and the different areas have subtle differences to offer and also change the proximity to Puerto Banús and the nearby beaches.
One of the most popular areas is Aloha, home to the demanded Aloha Gardens residential complex and the Aloha Hill Club.
Centro Plaza, just back from the bullring which ostensibly marks the beginning of Nueva Andalucia, offers a wide variety of restaurants, bars, hairdressers, banks, gyms and shops. The stretch from Centro Plaza to the bullring is also home to a weekly large and popular open-air market every Saturday.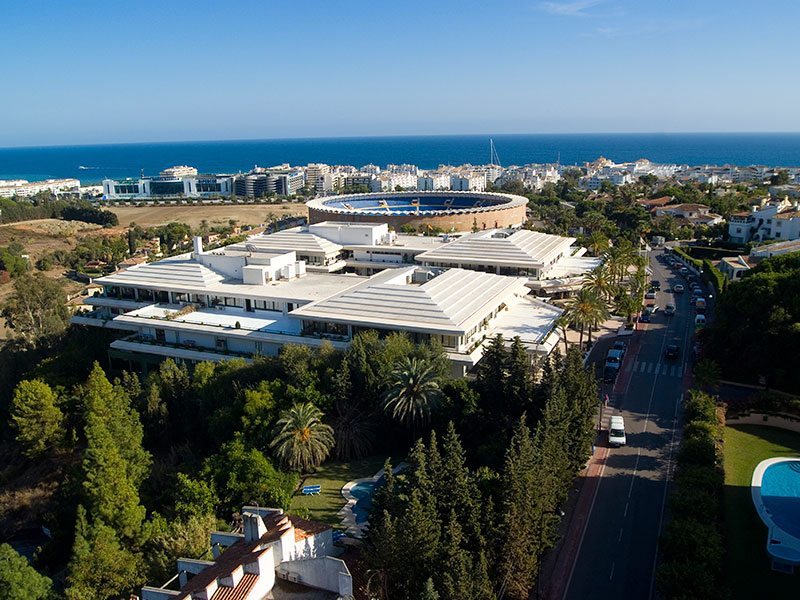 WINING AND DINING IN NUEVA ANDALUCIA

Nueva Andalcuia is also home to arguably Marbella most prominent bar – La Sala. A regular haunt of British celebrities, from reality TV stars to Premiership footballers and regularly featured in the gossip columns of the UK media!
However there is much more to Nueva Andalucía's nightlife, from laid back lounge bars, restaurants with terraces offering panoramic and sweeping views to the glamour of the Casino.
BARS AND NIGHTLIFE
There are numerous restaurants spread throughout Nueva Andalucía, offering an international and wide range of cuisines and price ranges, from Indian to American there is something for all tastes and budgets.
RESTAURANTS
THE GOLF VALLEY

Nueva Andalucia is known as the Golf Valley and with good reason, with some of Marbella's top golf courses, Aloha Golf, Los Naranjos, La Quinta Golf and Las Brisas all in the area whilst nearby La Dama de Noche offers flood-lit golf for night time play!
The courses all offer challenging play as well as stunning scenery and views!
NEARBY ATTRACTIONS
Minutes from Puerto Banús, 10 minutes from Marbella and 45 minutes from Malaga city, Nueva Andalucia is right in the middle of some of the Costa del Sol's best tourist facilities and destinations.
• Puerto Banús Beach – OK, technically Puerto Banus rather than Nueva Andalcuia, however just a short drive or even walking distance from many parts of Nueva Andalucia, the beaches of Puerto Banus are one of the highlights of the area. Playa de Puerto Banus or Playa de Levante as it's also called, is located just to the east of Puerto Banus, where the town stops and the paseo maritimo starts. The most family friendly beach in Banus the water is shallow and child friendly and there is plenty of beach bars and cafes. The most famous beach in Puerto Banus, home to exclusive venues such as Ocean Club is the Playa Nueva Andalucia. Actually more a stretch of connected beaches, broken up into smaller, pleasant bays by breakwaters, it stretches from the western edge of Puerto Banus all the way through to San Pedro and is the beach to come to if you're looking for glitz and glamour!
• Puerto Banús Marina – As with the beach, technically Puerto Banus rather than Nueva Andalcuia. One of the key entertainment ports on the entire Costa del Sol, with bars, restaurants and nightlife galore not to mention celebrities, supercars and luxury yachts!
• Marbella Old Town – Marbella's historic centre, the "Casco Antiguo" is just a 10 minute drive away. Full of Andalucían charm and romance, with narrow cobbled streets, flower drenched houses with ornate balconies and an atmosphere and pace of life that makes you forget the hustle and bustle of Marbella. Plaza de Naranjos, or Orange Square is a tree lined square lined with cafes and restaurants whilst the narrow streets are home to artisan and craft shops, gourmet food shops, clothes shops as well as the obligatory tourist shops!
• La Cañada Shopping Centre - One of the largest shopping centres in the area. With all the major international stores present, such as Mango, Zara and even Marks & Spencer as well as plenty of fast-food places as well as a cinema, La Cañada is a great place for bored kids or just to while away a few hours.
• Manolo Santana Racquets Club – Created in the 1970's by Spain's legendary tennis player, the club offers much more than just Tennis lessons. Its spot at the bottom of the Istán road offers a leisurely place to relax or to take advantage of the many classes and activities on offer.
• Tarifa – Under an hour away, is the ultimate weekend getaway for Costa del Sol residents. Its endless, wide sandy beaches stretching alongside the turquoise Atlantic Ocean, offers a paradise of tranquility. Whether you want to camp, stay in ultra-chic boutique hotels or try your hand at kite and wind surfing, Tarifa is deservedly one of the most popular destinations in the area.
PROPERTY IN THE AREA
During the summer months, Nueva Andalucia is the most demanded holiday rental area in Marbella.
There are some stunning apartments to rent, to ensure you have the perfect summer holiday in Marbella. Best in Spain's selection includes this great 3 bedroom apartment in Aloha Gardens.
For golfers nowhere beats the frontline golf properties on offer in Nueva Andalucia, from apartments in residential complexes to luxury villas with stunning views.
Property sales are booming in Nueva Andalucia, with properties such as this 2 bedroom apartment for sale and this 1 bedroom apartment available for long term rent, as well as the deserved reputation and popularity it's not hard to see why!
To find out more about property for sale and to rent in Nueva Andalucia and to see our complete selection contact us today! and let the BestinSpain.net team find what you're looking for in Nueva Andalucia.